China has been building at a  phenomenal rate, as the animated picture of the financial district of Pudong in Shanghai between 1987 and 2013 shows. (Reuters/Stringer, Carlos Barria) On Friday Bill Gates' tweet put that growth into perspective:
                                          The most staggering statistic in @VaclavSmil's new book: http://b-gat.es/1oYsC7G 
After reading "Making the Modern World: Materials and Dematerialization" by his 'favourite author', historian Vaclav Smil, Bill Gates posted on his blog and tweeted the link to his 16.3 million followers. In it he writes:
[Smil] argues that the most important man-made material is concrete, both in terms of the amount we produce each year and the total mass we've laid down. Concrete is the foundation (literally) for the massive expansion of urban areas of the past several decades, which has been a big factor in cutting the rate of extreme poverty in half since 1990.
In 1950, the world made roughly as much steel as cement (a key ingredient in concrete); by 2010, steel production had grown by a factor of 8, but cement had gone up by a factor of 25.
Staggeringly, the graphic he posted, illustrates that in just three years, China has used more cement than the U.S. used in the previous century — in fact it used 50% more!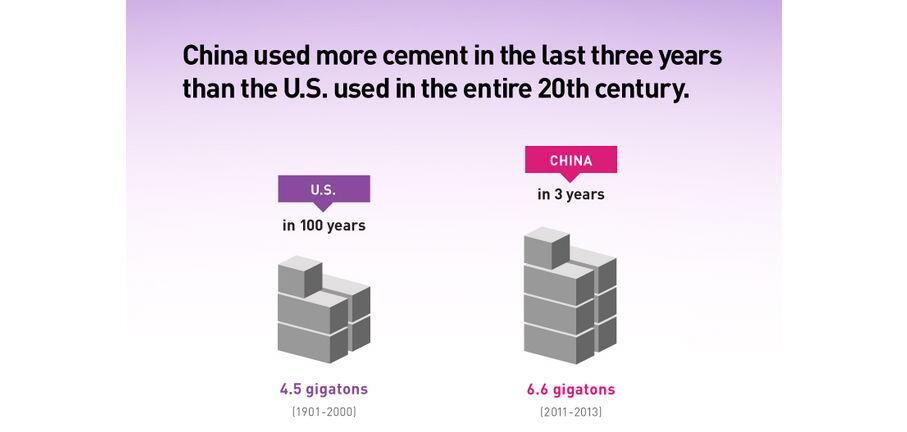 That means that most of America's skyscrapers, its entire highway system, the Golden Gate Bridge and the Hoover Dam, to name but a few of their major concrete structures, were built over the course of 100 years from 1901 to 2000 whilst China built all that, and nearly half as much again, in just three years.